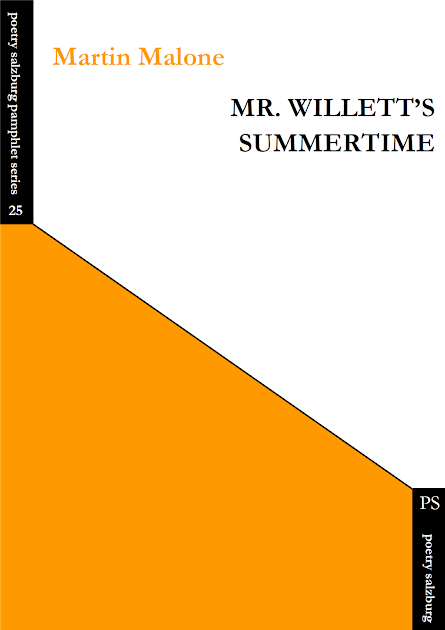 1. I genuinely loved Mr. Willett's Summertime. I suppose the obvious question is why you decided to write about WW1 (felt able to, maybe) when it was done so well by people who were there.
I'm very glad you enjoyed it, David. And the parenthesised part of your inquiry really gets to the heart of matters, since it was the very question I asked myself at the start of the project. There is so much hinterland to the Great War as a subject for poetry and, yes, what right had I to believe I could add anything new to the topic when there were writers infinitely more qualified to write about it, by virtue of having been there. One's position – as a non-combatant poet, writing a century after the fact – is ethically questionable at best. That said, there has grown around the subject something of a secondary canon, what the Irish critic Fran Brearton, calls 'post-war Great War poems'. I've written about the subject myself in a chapter from a forthcoming Palgrave-Macmillan Handbook: how the time around the 50th anniversary of the war begat significant sequences of work, by poets such as Ted Hughes, Philip Larkin, Vernon Scannell and Geoffrey Hill. Poetry which was absorbed into our sense of a Great War canon and became as influential upon subsequent writers as the soldier poets themselves. At the outset I sniffed around the topic for quite some time, reading all I could, before deciding that my most ethical route was to write as much about today's world as the world of 1914-1918, though simultaneously, with the Great War acting as a lens through which we see the present. It's not so difficult really, since, as Jon Silkin pointed out when writing about the Great War generation, 'their preoccupations are also ours'. And, if you look at contemporary global politics, you can see disturbing parallels and failures to learn from history. The centenary merely provides chronological symmetry. In this country above all others, I think, the Great War has huge cultural and historical significance. Once I'd decided to use this to my own contemporising ends it was a question of research and hitting upon a poetics adequate to the task. The more straightforward answer to your question is that I was 'gifted' the Great War as the subject of my PhD. So, it chose me, rather than the other way around. I'd originally wanted to write about the influence of Punk and Post-punk on contemporary poetry but didn't get the funding for that. Probably thanks to the centenary, I did get the funding for this. And having done so, I felt a huge sense of responsibility to represent, with some integrity, a generation whom, I suspect, was better than our own. Sorry if this is a long answer but it's a subject that's complicated on many levels.
2. Do you think so far on that perhaps we have lost the soft-focus WW1 had – are people more able to understand the horrors now?
We have and we haven't. WW1 – as an historical moment – is just so biddable. It gets co-opted by all sorts of people, politics and outlooks. In our lifetime it has certainly tended to have no soft-focus. This has been reflected at most levels of historical study and culture and is almost certainly a product of the surviving poetry above much else. However, while we are in a better position to understand the horrors, time also let's back in some of the factors that brought about the conflict: self-interested elites, misguided patriotism, mistrust of the outsider, egotistical and authoritarian leaders, nationalism and the fragmentation of international unity, to name but a few of the many and complicated reasons for the war. Look at that list. It ought to sound uncomfortably familiar to the citizen of 2014-2018. And there is little doubt that when I started the collection in 2014, there was an appreciable drift towards a sort of neo-con revisionism which was softening the focus once more. Even in popular acts of remembrance I'm attuned to a troublingly aestheticized and top-down mode of commemoration. It still has the lone bugle and sad shires to the fore and is awash with the usual poppy show. This has always troubled me. Hence poems like 'Dear Revisionist', and an attempt to widen scrutiny in order to remind us Great War-obsessed Brits that this was a global tragedy endured by both sides, which made victims of everyone. To be lectured at, once more, by public-school elites and the usual officer class stuck in my craw. Then again, look around and you see the least socially mobile society in the developed world, so while there may never be 'such innocence again' there is certainly a relapse towards such deference; a subject I deal with in a poem like 'Downturn', which punningly refers to our kinky, kiss-ass love of the old upstairs-downstairs world of the Edwardian costume drama. It's one of the reasons that, in The Unreturning sequence certainly, I'm dressing up WW1 in twenty-first century garb whenever possible.
3. I was interested to hear how you approached the collection. Did it entail a lot of research as a one-off, or is it a topic you had a long-term interest in?
I think I may have already answered this in passing. It entailed a lot of research funded as a one-off project in the form of my PhD, but that in turn has nurtured a long-term interest. In terms of approaching the collection per se, it was mainly a question of scoping out a poetics adequate to the task of doing the subject justice and squaring my own ethical dilemma of writing about the Great War in the first place. Jacob Polley recently said something like: "one of the main tasks of writing involves the search for technique". And I now know what he means. This is the first collection I've written where I was aware of the need to consciously develop a unifying approach to the verse. I've written about it at length, in an essay published in the Book 2.0 journal, called 'Prized assets of a ghost economy' but it was evolving all the time. Doing a practice-led critical study of the Great War for my PhD was a new and productive way of working, I think. Though, whether I shall ever again get three years paid time in which to write a poetry collection, I very much doubt. I suppose my approach is clearest in the prose poem title sequence, a pair of which you published in Issue #2. In some ways, what you've encountered in Mr. Willett's Summertime was me writing in that lyric-elegiac mode most readily associated with Great War verse. But that was done in order to let me deviate from the mode in the answering prose poem sequence of The Unreturning, which is both a self-conscious refusal to behave like Great War lyrics and intended to look physically like rows of gravestones in a war cemetery. These 10-line, block-justified poems deliberately wear their conceits to the fore, as 21st-century reconstructions of a century old conflict written by someone who is clearly here and not 'there'. The touchstones being someone like Geoffrey Hill and certain features of early modernism.
4. Are there new stories to be found, or lessons to be learned?
There certainly are and I hope that Mr. Willett's Summertime has proved it to a degree. You see, once you start researching a conflict as vast as the Great War, you are bound to uncover hundreds of stories and perspectives that deviate from the easily digestible core narratives we are fed year in year out. Coupled with the multi-directional memory approach of The Unreturning, I can honestly say that it would be possible for me to write about or, rather, through the Great War for the rest of my life, should I choose. Thankfully, Armistice arrived for me once I'd finished the manuscript, though there may be a clean-up operation yet to be gone through with my editor. Poems like 'The Turnip Winter', 'An-sky's Lament' and 'The 1st Women's Battalion of Death' ought to flag up the sheer variety of hitherto under-scrutinised perspectives and narratives surrounding WW1. And it's not just the war itself that is awash with possibilities, the whole social and cultural response to it is material also. Indeed, while I studied the poets of WW1, my spirit guides were just as much the war artists also; a fact evident in the number of poems about painters like Nevinson, Nash and Gilman As for the new lessons to be learned, I hope the reader will soon become aware of the book's contemporising drift and aspiration.
5. How long did the collection take to come together?
Well, I handed the PhD in bang on time, so three years. But one or two of the poems were written before this collection as a result of my interest in the artists mentioned above and I was adding to it up until I handed it over to my prospective publisher.
6. How did you come to have the collection published by Poetry Salzburg, and did going with an Austrian publisher 'mean' anything?
Well, I've Keith Hutson to thank for that. He joined their editorial team and asked me to submit something. I sent them Mr. Willett's Summertime and thankfully they went for it. Poetry Salzburg are a quality imprint so I was very glad to go with them. I love the hint of Russian Constructivism in their corporate covers and Wolfgang Görtschacher is a nice guy and a knowledgeable editor. The fact that they're Austrian is a co-incidental bonus, given the internationalist perspective I wanted to throw upon the war. Also, some of the early poems came out of a research trip to Vienna I did in the Summer of 2014. I've good friends there and knew that the Austro- Hungarian perspective on the Great War might be an interesting place to start. Many years ago, I witnessed the funeral cortege of the last Austro-Hungarian princess, Zeta. So, the 'meaning' is as much personal as it is symbolic...
7. There is a very personal feeling to the poetry – not so much reportage a lot of the time, but you really seem to get inside people's heads. For instance, can you tell us about 'Let Us Sleep Now'.
...which leads nicely into this question! 'Let Us Sleep Now' came from that very trip to Vienna mentioned above. It was exactly 100 years to the day that the war was starting as I sat on the station platform described in the poem. A hot sunny afternoon when I was people watching and saw a young Austrian guy heading up the line towards Simmering on the tram. I just channelled a bit of the compassion of Owen's 'Strange Meeting' and wrote an update (the title is, actually, the final phrase of that poem). When I got back to Wiener Neustadt, my friends told me that Simmering is the location of one of Vienna's big cemeteries. So, fate had gifted me all kinds of resonance that afternoon. I suppose, a form of empathetic penetration into people's heads and lives is just something poets are supposed to do. As the opening poem 'Séance' suggests, one has to listen to voices conjured from the past and represent them to the contemporary reader. Poetry isn't reportage really, is it? I'm just about to teach an online module on voice for Aberdeen University, so hopefully, the experience of writing this book will stand me in good stead. And I'm giving a paper on his poetic afterlife to the Wilfred Owen Conference at Oxford in October. All grist to the mill, hopefully.
8. Can you talk us through your thinking for 'The 1st Women's Battalion of Death' and 'Sorley's Bullet'?
Those two poems come from very different circumstances, the first purely from research, the second from personal coincidence similar to 'Let Us Sleep Now'. 'The 1st Women's Battalion of Death' was one of those many narratives to be uncovered during my research, the sort lost to a national story tending towards the subaltern poetry of the Western Front, as it is in the U.K. Apart from being a wonderful gift of a title, the story of Bochkareva and the Russian women's battalions put into the field on the Eastern Front resonated with today's struggle for equality and the recent frontline deployment of women in the U.K.'s armed forces. It's nothing new and surely a bittersweet development. 'Sorley's Bullet' was actually a poem commissioned by Aberdeen University for their Mayfest 2015, to celebrate the centenary of Sorley's death at the Battle of Loos in October, 1915. However, there were numerous personal touch-points too. I'd just moved up here and found out that one of my favourite Great War poets had been born just up the road in Don Street. And I shared with Sorley a great love of the Kennet Valley. He'd gone to school at Marlborough and used to wander and run the downland surrounding it, as I myself had done when I lived in the villages of West Overton and Avebury. Also, just as he'd written about that landscape in his posthumous collection, Marlborough and Other Poems, I'd written a fair bit about it in The Waiting Hillside. It seemed fated, then. The title, 'Sorley's Bullet' is an allusion to a line from one of his famous war poems, 'All the hills and vales along...'. I'm also writing a chapter on his wonderful Letters for a book that I'm co-editing on Scottish Great War writing. A virtuous, though tragic, circle then.
9. More generally, you are leaving The Interpreter's House behind now, why is that?
I'm leaving it simply because, when I took it over in 2013, I said that I'd do it for 5 years and 15 issues. I'm a man of my word. Temperamentally, I'd have gone for three years but that felt too short and five was sufficient unto the day.
10. What are you planning to do next?
Hm. Quite a few people have been asking me that of late. To be honest, I am simply knackered and feeling a bit burnt out. It's been a hard five years. I'd like to try writing some short stories and concentrate a little more on my own poetry, but, out of necessity, I am now back in full-time employment. Despite a PhD and three MAs, I can't seem to even get an interview for academic jobs. So, while I try to create my own, with the development of online courses for Aberdeen, I'm back to full-time school-teaching, having committed a form of 'pension suicide' in order to do the PhD. Also, I've an absolutely gorgeous but full-on 4-year old who takes up a lot of time and a new/old house up on the Moray coast. Little wonder I'm a bit distracted right now. That said, I've made the switch to a new font, which I always do when I start a new collection. I've now gone from Times New Roman to Calibri to Georgia to the current Garamond. So, I've stated my intent, at least, by opening up a new font in the great war against silence. Sorry, it becomes a habit of mind.
SORT OF GENERIC
1. Can you remember the first poem you read that caught your imagination, and if so what was it?
Yes. I'm going to say that it was 'The force that through the green fuse...' by Dylan Thomas. On the cover of 'Scott 4', Scott Walker quotes Camus: 'A man's work is nothing but this slow trek to rediscover through the detours of art, those two or three great and simple images in whose presence his heart first opened.' That. It was/is like that. With R.S. Thomas and Ted Hughes not far behind that moment.
2. How about the first poem you wrote – what was it about? Do you still have it?
Like many, I suppose, I wrote poetry from quite an early age and then stopped once I started to properly study literature, crushed under the weight of a dead, white, predominantly middle-class male canon. I detoured through rock music for 25-years before getting back to writing verse at 42. The first thing I did then was 'At Uffington', which opens The Waiting Hillside, and captured an emotionally complex moment with an adequacy that suddenly seemed more viable than verse-chorus, verse-chorus, middle-eight, verse-chorus-chorus.
3. How long were you writing poetry before you submitted your work to a magazine?
I'll answer this one and the next question together.
4. What was the first thing you had accepted, and how did it feel? Similarly, describe how you felt when you first saw your name/ work in
print?
I didn't actually submit my poetry to anyone before I had it accepted. My friend, the screenwriter, Carmel Morgan, read 'At Uffington' thought it was like Hardy, whom her hero Philip Larkin also liked and sent it off to the magazine Larkin About. All without my knowing about it. When she told me it had been accepted and I saw it alongside a poem by Dennis O'Driscoll, I became hooked.
5. Thinking about your first collection – what was that like as an experience? Did you listen to your editor?
Rather uncharitably, I always describe my winning of the Straid Award and the subsequent publication of The Waiting Hillside as something of a mixed blessing. It was basically my M.A. portfolio that I'd expected to tidy up and set aside while I wrote my first proper collection. Then, I got onto a great mentoring scheme run by the Wordsworth Trust, purely because I'd just moved to Cumbria at the very moment the scheme came into being. I was paired-up with the wonderful Paul Batchelor and suggested that, rather than me workshop a handful of new poems, we tidy up my M.A. portfolio in preparation for the bottom drawer. We needed a timescale, so I suggested that the deadline for this new award might be a good notional one. We kept to it, I bunged it into Templar and, blow me, didn't it win? This was/ is all great. Templar do lovely books, but, in a world where way too much store is set by first-collections (for purely commercial, rather than any real artistic reasons), I think maybe I wasted one of my best shots. At least in terms of building a more solid reputation first and maybe prising open the tight fist of one of the 'major' poetry publishers (contradiction in terms, though that may be). But hey, I got a beautifully produced first collection out with a respected imprint and, for all it's faults, I'm still proud of it. The rest is just business, really. Did I listen to my editor, well, by the time Alex Macmillan got the manuscript I suppose that it had already been heavily edited by Paul. And, on that score, I always cut it 95 – 5% in favour of the second pair of eyes. I'm not at all precious. Every writer needs an editor.
6. What did you expect would happen when it was published and how did the reality compare?
I had no expectations and I still don't know what that book's 'reality' is, to be honest. Poetry is a curious beast that plays strange games with its own reception through time.
SOME EVEN MORE GENERIC QUESTIONS
1. Can you recommend a poet to us that you have come across that perhaps we don't know?
From today you mean? I'm keen on Frances Leviston's work but, as she's on Picador, I guess she might be known well enough... So, a few writers I've mentioned before in editorials/ interviews, who ought to be better known for work they've produced in recent years: Roy Marshall, Jim Carruth, Carole Bromley and Lesley Saunders.
2. What poetry collection/ anthology are you currently reading?
I'm reading Richard Skinner's excellent Smokestack pamphlet, The Malvern Aviator and Virginia Astley's new Bloodaxe collection, The English River.
3. Can you name a poem you wish you'd written and why?
God, loads. But for present purposes, Derek Mahon's gorgeous wee lyric 'Leaves'. Just two quatrains, such profundity, so lightly worn. I aspire to that.
4. If you had a hero poet, who was it and why?
Again, so many candidates but gatekeepers remain: Seamus Heaney, Ted Hughes, R.S. Thomas, Isaac Rosenberg and, more latterly, Geoffrey Hill. 'Why' might take more time than we have here.
5. Name one poet you think is over, or underrated.
There are way too-many over-rated poets, it's a function of the publishing 'industry'. Time invariably finds them out and sometimes it is kind to the underrated. That's the consolation which encourages us grunts to continue. But the question is a good one and I often wonder whether we'd prefer to be over-rated or under-rated. There being no danger of the former I'll continue to console myself with the latter.
6. Which book should you like but don't?
I'm no great fan of Virginia Woolf. Sorry.
7. Can songs, rap and grime be considered poetry?
Oh now, I'd need an entirely new conversation to go into that one. I've been a songwriter and now I aspire to become a poet. They are different crafts. Cousins not siblings.
8. Who should we talk to next?
John Lucas, Jon Glover and Sheenagh Pugh while we still can. Elsewhere, there are simply too many interesting candidates for me to offend by naming only one.