Sir Herbert Grierson Centre for Textual Criticism and Comparative Literary History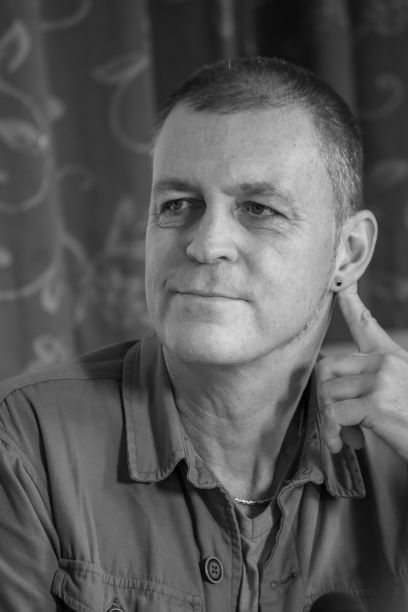 Martin Malone
Aberdeen University has links with more than a few poets, resident and otherwise, and in this, the first interview in a series, we had chance to catch up with Gamrie based poet, Martin Malone, whose work ranges far beyond the tight confines of Gardentown's cliff-nestled streets.
Martin is an honorary teaching fellow at Aberdeen University and at the time of writing, he has published three collections: The Waiting Hillside (Templar, 2011), Cur (Shoestring, 2015) and The Unreturning (2019).
We talked to him about his new selected poems Larksong Static, published by Hedgehog Poetry Press in 2020, gaining a fascinating insight into Martin's thinking on place, identity, the male gaze, and his re-imagining of the First World War. We also had opportunity to learn more about his influences, his love of music, his collaborations and forthcoming work.
You can read the interview here.
Your work is embedded in human relationships and experience, but almost always framed by place. Would you describe yourself as a poet of place?
Ah now, a you'd be on dangerous ground to describe yourself as a poet of any one thing, though place is clearly important to my poetics or, at least, my sense of them. 'Place' can be many things in poetry – geographical, personal, temporal, even, as in The Unreturning, 'historical' – though it's often no place I've ever actually been, that's what the imagination's for. Over the course of my PhD, for example, I came to view the corpus of Great War poetry as a sort of site-specific artwork that was certainly 'chronotopic' – if we go by Bahktin's notion of 'literary artistic' chronotopes, whereby 'spatial and temporal indicators are fused into one carefully thought-out, concrete whole.' But this is way too theoretical for most of my stuff which simply happens 'where' it happens: in my head or in that head's physical location.
Intrinsically, place is no more important to me than time, with which poetry has a very intimate relationship. I sense, for example, what Charles Simic is getting at when he says: 'Poetry secretly wishes to stop time'. And, in connection with poetry and place, one might just as easily cite Michael Longley's wish to 'go there' if he knew where it was. I suppose considerations like 'place', 'time', intellect and 'experience' are the stave onto we compose the score of ourselves. That said, certain projects emerge from one's sense of place. This is certainly the case with one of the books I have on the go right now, specifically the 'Gardenstown' poems, from a collection that might be labelled 'nature writing'. So, it'd be disingenuous to pretend that place doesn't feature as a big factor in my work.
'Liverpool-Irish' is one of several poems that delves into your Irish roots. The picture of your identity they build up is complex. On one level, they prompt the question of where you belong, whether in the here and now or historically. On another, they prompt the question of whether these poems belong anywhere. Do you feel torn between the need to belong, the need for roots, and the condition of migrant poetics, of being forever on the move?
This is a tricky question to answer. While the term 'intersectionality' is relatively new, its reality is nothing of the sort. So, I guess, the ishness of my own sense of an Irish identity is grounded, as with many others, in one's notion of 'roots' and history. In the end, the most any of us can be is some form of 'Ish', with all the partiality and incompleteness that implies. We either go along with the herd-determination of a passport-route to this – based upon birthplace – or go off to find our own more complex versions, based upon a whole range of rational and irrational principles. The latter, I suppose, leads to a sense of intersectional identity; my own being as sort of Hiberno-English, as opposed to the historically freighted 'Anglo-Irish', with which my family were simply too dirt poor to be landed.
Irish identity is a notoriously complex and loaded debate, though that state-of-affairs has, to a large extent, been imposed upon the island of Ireland historically from the outside: by imperialism and diaspora, which moved me – through time, learning and choice – away from a passport-rooted sense of my own origin. These ideas are explored in 'Liverpool Irish', I suppose: where families like mine are 'history's/ tenant cousins twice-removed'. But even the concept of 'belonging' is a bit of a moveable feast isn't it (the irony of that metaphor being intentional in this case)? As you say, my sense of identity is somewhat complex: a state-of-affairs I'm quite comfortable with. After all, a writer's ability to accept "uncertainties, mysteries, doubts, without any irritable reaching after fact and reason," grounds him/ her in open-minded practice and a great tradition.
Overall, I can't help but feel that 'identity' is a somewhat over-played hand in much contemporary culture. So, I'm wary of a question like this, since 'identity' is worn, all-too frequently, as a perfomative badge fronting a lot of reductive practices that diminish the very power of nuance which energises poetry in the first place. Too many angels dancing upon too many pinheads here. Let's just say, that I am grateful for my father's sceptical take upon many of the tropes of belonging whilst he tenderly nurtured his own sense of a nuanced human identity. I suppose that freed me to come up with my own. Ultimately, I aspire – as, perhaps, we all should – to The Blue Nile's line about love being 'the only country I know'. In answer to the final part of your question, I hope I've sufficient negative capability to remain comfortable with the condition of migrant poetics and being forever on the move. My personal c.v. is nothing if not peripatetic. In the modern world it is probably more difficult to be the Norman Nicholson type poet, rooted in one place through a lifetime.
'Map-Making' is one of several poems that use cartography as a foil for questions of the body and desire. Given the temporal range of these poems, across several decades, I wonder what kind of final map you feel you arrive at.
The map is always being re-drawn, I suppose, and will be until a final stop at the plot of earth I'm laid in or scattered over (and, if the latter, even then it's likely to cover several spots). I think it true to say that one could compose a cartographical profile of my poetry, since it ranges in location and tends to be explicit about each. This may be a circumstantial quirk, born of the fact that I began writing verse again after an epiphany on Uffington Hill, a location that's become a bit of a leitmotif in my work. Certainly, at that early stage of my writing, I was greatly affected by uprooting from Liverpool 8 to go live in the ancient landscapes of Wiltshire, near Avebury at the end of the Ridgeway. So, landscape represents something of a poetic omphalos, I suppose.
Write what you know, they say, and I've been fortunate, since 2005, to live in some remarkable places: West Overton, Avebury, Maulds Meaburn, Monks Kirby, Aberdeen, Gardenstown, Mirepoix – all spots you'd be a fool not to write about if they're on your doorstep. Add to these locations, residencies on Shetland, Orkney and Mull and the map becomes more interesting yet.
My other great subject, at least in the first two books, was, indeed, the classic one of love, specifically an understanding of male sexuality and desire. I've been trying to manifest and explore, frankly, Martin Malone's 'male gaze' and rescue a sense of its validity from the times' very reasonable interrogation of that concept. When you live in the female-seeming chalk landscapes of the fertile south-west and the harder landscapes of the north, there's a natural series of correlatives for these concerns. In actual fact, the poem 'Map-Making' was written as a specific metaphorical retort to another poem, which struck me as a too-cosily performative dichotomising of male and female sexuality. I knew its author very well and knew also that the poem did not represent her own truth, so much as a piece of easy – and easily publishable – rhetoric. She was/is better than that, so the poem was intended as a gentle reminder, though I doubt she's ever read it.
The question of temporal range gets far closer to my preoccupation with time and what can be represented and rescued from it by art. We've probably not the space here to develop my thoughts on that one, but I've always been drawn to the time-torn sensibilities of Hardy's work. When I started an MA at Manchester Met back in 2006, I told them that I was good up to 1925 but after that they'd need to educate me. So, it's small wonder that many contemporary readers may find my poetry a bit 'old-hat', but that's OK. It's all about the role-models who first open your heart to such things. At least I don't actually use words like 'wert' or 'swain', nor, in contrast, do I pretend that I'm walking around New York City in my lunch-breaks.
Your selected poems span your earlier landscape focussed work and the later Unreturning, which takes a very haunting and critical look at the First World War. What would you say links, or binds, the range of your selection?
If I'm honest the selection is a rare example of me thinking ahead and curating my stuff a little. Larksong Static could have gone in another direction completely or sought a more general and eclectic mix. But I anticipate my next collection to be something of a return to the nature and landscape focussed work you refer to here, which is a natural consequence of my moving to Gardenstown. So, I selected with an eye to preparing reader expectation. To be honest, it feels presumptuous to even have a 'Selected' coming out after only three collections and a handful of pamphlets. However, Mark at Hedgehog was keen to publish me and, with small presses coming and going all the time, this was a solution made more elegant by the fact that it probably buys me a year or two longer to work on the pair of new collections that have shown themselves simultaneously. Of course, should the music-related one suddenly burst into rude life, it may be finished first and my projected timeline is thrown out.
In terms of what binds the Great War material to the rest, I'd suggest that the sort of shell-shocked Edwardian romanticism which characterises much trench poetry written in English is never far from the pastoral mode. So, poems like 'Mr. Willett's Summertime', 'Ripon Work', 'Nostos' and 'Wanton Boys' slide quite easily in beside the landscapes of my earlier work. The outliers are probably the prose poems from The Unreturning sequence which adopt a more neo-modernist approach I'll discus later. However, despite their modern jazz, poems like 'Notre Dame des Brebieres', 'School Run' and 'Clickbait' are also not far from the land: as it says in the latter, 'The land itself has never been more intimately known'. And by the end of the collection, I move onto a selection of more recent, post-doc poems that might signpost upcoming 'nature' work.
What brought you to the poems that feature from The Unreturning? Was it through the work of the war poets, particularly Edward Thomas whom I know you admire, and thinking of the reality of their experience, or was it explicitly to take a critical view of the way we commemorate war as a nation?
I think I may have already answered the first part of the question, in connection with the 'Selected' at least. But your broader question is, I suspect, to do with The Unreturning and how that book came to pass. The roundabout answer is that it was a subject given/ gifted me on the basis of funding for my Sheffield PhD. My main challenge was to say something new about it from the perspective of its centenary. In an interview a few years ago, Jacob Polley offered the observation that writing so often involves a search for technique and this was very much the case when writing my way into The Unreturning. This process is discussed in more depth in my next answer, but research into the book did, indeed, involve a lot of re-reading the Great War poets and discovering new ones from the 2,225 poets estimated by Catherine Reilly to have been published in English during World War One. My paper, 'Some Notes on The Unreturning' sets out the scale of the task and my general response to it.
Both academic research and my creative practice did, indeed, look to poets like Thomas and Isaac Rosenberg, however, as well as the even more obvious ones. For the Ghosts of the Vortex sequence, my purpose was to seek out some of the lost, or lesser-known, narratives of the conflict and convey a sense of its global dimensions and legacies: hence poems like 'Ansky's Lament', 'Legacies', 'The 1st Women's Battalion of Death', 'Nostos' and 'The Turnip Winter'. German Great War poetry is, in many ways, more interesting than the British stuff – certainly, it often feels more modern and experimental – though it's an all-but-lost canon. So, I wanted to be a bit more 360° than is often the case with UK writing about the war. But you can't ignore the English language canon and writers like Edward Thomas.
Thomas I'm a qualified fan of, as you point out, though I can't help but feel that Ted Hughes's remark about him being 'the father of us all' made him a hostage to fortune. So subtle are Thomas's innovations on the English line and so straightforward seem many of his poems that I think many a reader might justifiably think him a little over-rated. However, what Edward Thomas did, in terms of Great War poetry, was to write about it obliquely in a fashion that oddly links him to modernists like David Jones and neo-modernists like Geoffrey Hill. In a way, then, Thomas is a bridge between The Unreturning and my landscape stuff.
The last part of your question pertains to the larger intentions of the book and you've correctly deduced my desire to interrogate our mode and aesthetics of commemoration. As I point out, the Great War was the conflict by which we construe all subsequent wars and commemorations. One thing I might observe is that it's highly unlikely I shall ever again be offered the means by which to live, research and write a single book of poetry as was the case with The Unreturning. So, this collection may end up being a bit of an outlier. Which is, of course, why I packed in a really nice job and left Avebury in order to write it.
Would you like to say something about your turning to the prose poem as a way of writing about World War I? Is there a conscious debt here to the Geoffrey Hill of Mercian Hymns? Your referencing of David Jones and his 'fucked-up grail of Mametz Wood' feels like another way of pushing beyond conventional narratives into something more personal and difficult, in both form and content.
If I'm honest, those prose poems arrived like a gift from the poetry gods. I'd never even written one beforehand and, while remaining open-minded, I'd not been passionate about the prose poem form by any means. But, in seeking a technique which felt adequate to the task of saying what I wanted to say about the Great War's continuing influence/ relevance, I sort of chanced upon the form in the poem 'School Run'. Sometimes it's all about finding the right size of expression for what you need to say. So, I dabbled around, knowing that I wanted to use a form which problematised and argued back at the traditional trench lyric I was trying to write for the Ghosts of the Vortex sequence.
After the writing of 'School Run', I felt like I'd hit upon a viable working method for looking at the Great War from a contemporary perspective that, nonetheless, served as a prism between past and present. So, 1914-1918 could now be viewed from 2014-2018 and vice versa, in a yin-yang version of Burnt Norton's 'eternally present' yet 'unredeemable' time. This 'unredeemability' becomes, I suppose, the central political/ anthropological theme of the sequence as it progresses. It was at this point that instinct made me open Mercian Hymns which I'd read 10 years before. I confess, I'd actually forgotten that it, too, was written in the prose poem form. What became more relevant to me was Hill's attempt, in the Acknowledgements, to 'justify a number of anachronisms', because I decided to simply extend this license and work my own anachronisms harder, in order to carry the main anthropological thrust of the book: that history has taught us little in the past century and that, to use Jon Silkin's observation of the Great War generation, 'their preoccupations are our own'. Once this link to Hill's neo-modernist aesthetics was established, the sequence became easier to conceptualise and contemporary events made it relatively easy to write: I only had to pick up a newspaper and the world gifted me parallels almost every day.
And then there was David Jones. He came into play after Hill, but In Parenthesis compounded my sense that a disruptive alternative to the elegiac trench lyric was possible and a wider angled lens could be trained upon the subject. And, of course, Jones bequeathed me a pretext to the sequence by offering a challenge I'd already accepted, when he says in his Preface: 'It would be interesting to know how we shall ennoble our new media as we have already ennobled and made significant our old – candle-light, fire-light, Coups, Wands and Swords, to choose at random.' This was an absolute gift to a twenty-first century writer pondering the significance of a century old conflict in a world of all-pervasive social media and computer technology. It confirmed my original desire to seek newer registers – beyond the poppy and lone bugle call – with which to comment on both the conflict itself and the troubling ways in which we commemorate it.
What David Jones and Geoffrey Hill do is exactly what you say here: they push beyond the conventional narratives into something both more personal and, at the same time, anthropologically broader. They share this instinct with my favourite of the 'conventional' trench poets, Rosenberg, who could step outside the framework of traumatised personal witness to integrate a form of cultural commentary across a much broader arc of human history.
You explore a great range of forms in the work that features in Larksong Static, but there is always a lyricism and almost audible rhythm present that brings me to hearing you read. I wonder if there is always a connection between the spoken word and the way you choose to represent it on the page. How important is the spoken expression of your poems to the way you compose them?
Well, as James Fenton says: 'The voice is raised, and that is where poetry begins.' I always advise my students to read their poems aloud to themselves through their many drafts, describing each poem as 'a score for the human voice'. I stand by that actually and, as I've said elsewhere, it really is why I rarely rehearse for poetry readings. Rather, I use them as a late stage of re-drafting, even poems that have long been published. Because the ear is designed to pick out the rhythms of the human voice and the mouth so often tells the pen to have another go. I'd suggest, too, having others read your stuff back to you because that provides a degree of critical distance from your own words, allowing you to make more objective judgements about lines you instinctively know to be not-quite-there yet.
However, your more general observation about the rhythmic qualities of my verse I put down to the fact that I've been a songwriter since I was sixteen, so the facility is far longer established in me than, say, poetic technique. I'm long-used to corralling expression into a variety of rhythmic templates, so there's bound to be some acoustic bleed-through into my poetry. That said, I'm no fan of the songwriter-is-poet trope. They are different crafts, cousins rather than siblings. I think I may demonstrate the, admittedly negotiable, lines between the two in my other collection, currently in progress. This one – Mic-ing The Kit – concerns itself with a deep love of rock music and my years of playing in bands or working as a sound engineer. Again, it's an attempt to convincingly introduce new registers into poetry from an insider perspective, but I include a sequence of ten lyrics for songs I've written for various albums down the years. I suggest that the clear differences here will demonstrate my remarks far better than any theorising. Song lyrics, no matter how poetic, are not poetry, they're song lyrics. Just as Bob Dylan's Nobel Prize was not for poetry: our definitions of literature were merely broadened to encompass song-writing. And, while no great Bob Dylan fan, I'm happy about that.
Interestingly, after seeing the leverage to be had from joint practice-and-critical-research methods, I'm preparing for this collection by picking up a guitar again and writing songs for a new album by my 1980s band Innocents Abroad; under the very Edward Thomas-like working title, Late Spring. My indulgence here is the fact that I've abdicated responsibility for the lyrics to my mate and erstwhile song-writing partner Dr. Peter Mills from Leeds Beckett University. We're uncoolly over-qualified (and now over-age) for a rock band but there you go.
Your recent Gardenstown series is reminiscent of Dylan Thomas and the opening to his famous Under Milk Wood. Is that a fair comparison and is it a conscious move toward attempting your own version of Thomas's god-like gaze on Llareggub, turning your own gaze on the village where you live?
It's a flattering comparison for sure, one I've – somewhat immodestly – made myself, though to be fair I was just paying a debt of originating influence. I suppose it does represent a conscious move on my part but that is mainly to situate a motive and general purpose in the reader's mind. As I pointed out in Long Poem Magazine, Thomas is one of those rare poets whose distinctive voice is so clear they have to be handled very carefully: any direct echo of his style tends to linger overlong on the breath, like strong liquor. But, here in 'Gamrie', we certainly do share certain characteristic and topographical overlaps with Thomas's fictional village, so this was a gift I couldn't refuse. Given so, it was a question of rechannelling the sympathetic energies of Thomas's poem towards a sensibility that is my own. The echoes of Llareggub occurred to me soon after I arrived in the village. Actually, I do plan to punt it all out, at some point, in aural form which, given Pete Stollery's skills, might link this answer to the next question. I know someone at the BBC I have a mind to approach once this iteration is put together, but that's some way off yet.
Gardenstown is a rare and magical space, the sort I encountered 30 years ago in Mirepoix, but one I'd thought long lost to this country, where it's harder to stay under the radar. There's something toughly romantic about it, almost Whiskey Galore-ish and full of human jetsam yet retains its sense of close-knit community and local identity. Everyone has, either deep farming-and-fishing roots in the place or are blow-ins with a backstory. So, despite its freakishly discrete beauty, it remains one of those villages that really doesn't give a shit about the outside world. As I write this, for example, Cillian Murphy is billeted down in Seatown while they film episodes of Peaky Blinders over in Portsoy. But does anyone get excited? Not in the slightest. He's just a light in the window of a rental cottage and another occasional figure on the seafront, muffled up against the snow. The place is a gift for any poet, and I count this blessing every day of my life.
The poem itself, though, is more 'nature' writing and 'eco' than the wonderful human zoo of Llareggub: the Narrator's jazz solo, if you like. I have to live here, after all, and am already nervous of anyone taking exception to my mention of the locals' 'Doric entitlement', which I totally understand and respect. Nothing worse than me getting 'god-like' on their ass. I've had enough problems with my 'male gaze' in some quarters, without my sublimating it into the Supreme Being.
Can you tell us a bit about the Northlife project and your methodology in the way you approach composition? In your collaboration with both the visual artist Bryan Angus and composer and sound artist Pete Stollery, how much does the work and approach of the others feed into your own?
Ah, now this is one of those rare, rare things: a genuine win-win arrangement. And it's thanks to Helen Lynch at the WORD Centre, whose idea it was to pull it all together into a formalised project. It was a quite natural genesis: I knew Bryan, with whom I share similar sensibilities about the role, function and nature of the arts, I also knew Pete, with whom I share an interest in music and audio recording, as well as a certain simpatico. We might well have gravitated together, anyway, as a three-way collaboration but Helen forced the issue with an invitation to contribute an open-discussion event to MayFest 2019 (remember when the world had such things?). So, the loose affiliation now had a framework for itself and a loose timetable, based around a return event at Mayfest 2020 as well as a performance/ installation event at Soundfest of the same year. We all know what happened next. Events also thwarted our intended contribution to Scotland's Year of Coasts and Waters. However, before the Plague hit town, we got into a bit of rhythm in terms of working together, the nature of which we describe in our contribution to last year's substitute Podfest.
Basically, we're just three middle-aged white guys bumbling around the wonderful coastline of Scotland, either individually (we each had residencies in January 2020) or collectively, recording stuff in our chosen medium, while watching the others do likewise. We have a conversation or two about how we want to shape it all as a multi-disciplinary Thing and then retreat to our respective ivory towers to work on it with our notional template in mind. Phone calls, Zoom Meetings (almost exclusively) take place and show-and-tell moments are scheduled while we try to progress on this basis.
Obviously, apart from the odd socially distanced dog-walk at Duff House with Bryan, our face-to-face meetings have fallen by the wayside and, to be honest, the Northlife project has been in abeyance. But Bryan and I are still working together on a sequence of bird-poems and linocuts, which will be looking for a publisher sometime towards the end of this year/ next spring. And, with my other interest and current recording activities, I've no doubt that Pete and I will collaborate in the sonic sphere at some point, just as he and Bryan have collaborated on a sound-map and images project online.
I've a long hinterland in composition and sound recording, and I've long worked with ekphrasis in my poetry, so these cross-platform collaborations come quite naturally. Both disciplines contribute hugely to my practice, by their sheer otherness. It helps to have some insight into them, but at a very basic level, I used the visual arts a lot in my second collection, Cur, to help put myself beyond the lyric 'I' which characterises so many first collections. So, they represented an important bridge at key moment in my development.
Finally, would you say you had a manifesto for your work? Or do you allow your poetic response to colour and define the overall approach?
Oh, I don't think I'm important enough to warrant a manifesto, despite the length of these answers.